Why rennovate the Library?
40 years since the last renovation, the VPL is overdue for basic systems, furnishings and spatial improvements
More space for public meetings, teen and children's programs and casual reading will be created
Historic features like storefront windows and a Main St entrance will inspire revitilization in downtown Ashland
Building safety will be improved throughout, including foundation repair, a sprinkler system and more bright, open spaces
Energy efficiency upgrades will include HVAC systems, lighting, plumbing, electricity, windows and added insulation
Good stewardship of community assets like the library is important to the vitality of Ashland
Engberg Anderson Architects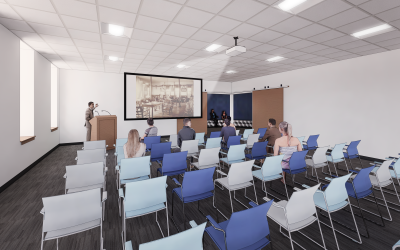 The Library Team is working with the City Council to develop a funding plan for the renewal of the VPL. Community conversations were held in early August to explore public opinion about the Plan and how to fund the Renewal Plan.  Those who attended expressed...
read more
2023 Donation Program
Support the Vaughn Public Library Renewal!
Every dollar has impact! Whether you give once or set up a recurring donation, each donation moves us forward in our goal of creating a bright & responsive library for present and future generations.  Thank you!
All donations are tax deductable.